With a tint of smile and tinge of laughter, with a shade when families are together, every split second is a festival here.
All over the world, India is known as a land of festivals and diversities, where celebrations become a part of life.
The month of April brings a whole lot of merrymaking across the country. Here are a few notable festivals celebrated in India during this month.
April represents youth and happiness. The lush green fields turn brighter, marking the time of harvest. People of various Indian states and varied cultures celebrate it with a disparate name. It is celebrated as 'BohagBihu' in Assam and North Eastern India, 'Baisakhi' in Punjab and Haryana, 'Puthandu' in Tamil Nadu, 'Vishu' in Kerala, 'Naba Barsha' in Bengal, 'MahaVishubaSankranti' in Odisha, and 'Baisakha' in Bihar.
1. Bohag Bihu
Being celebrated on April 15 this year, 'BohagBihu', unfolding unity in diversity, is enjoyed by everybody in Assam without any religious or caste boundaries. The festival is celebrated for over three days, where on the first day the cattle and farm animals are given a bath with turmeric and black gram. On the second day, people dress up in new clothes and exchange gifts. Whereas, people worship their household gods and seek their blessings on the final day. Coconut, jaggery, rice, sesame, milk, and milk products, among others, are a few food items served during this festival.
Source – Indrani's Kitchen Flavours
2. Baisakhi
Among the people of Haryana and Punjab, Baisakhi is a sort of a thanksgiving for the harvest. This year, it is being celebrated on April 14. The day is full of colors and vibrancies. People harvest crops on drum beats, which confides the beginning of the Sikh New Year. Folks wear new clothes and visit Gurdwaras, where they eulogize the ceremony by participating in Kirtans and colorful processions. Moreover, this celebration ends with the delicious meal servings of Punjab, which includes PindiChole, Sarsonka Sang, Maakiki Roti, and Lassi (buttermilk).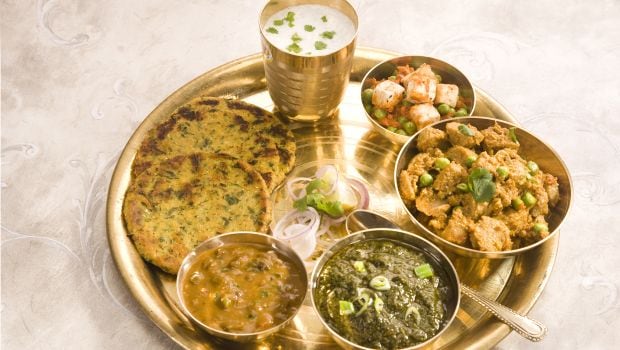 Food is the best bond that people can share. What do you think? This, from last night's #Baisakhi pop up at my place ???? pic.twitter.com/S3Bu8qWCKN

— Vernika Awal (@VernikaAwal) April 15, 2017
3. Naba Barsha
In Bengal, it is known as 'Naba Barsha' or 'PohelaBoishakh'. Bengali households welcome the New Year with magnificent Rangolis and a Kalash, which symbolizes prosperity. Houses are decorated with flowers and processions are carried out early in the morning. On this day, Goddess Lakshmi, the god of Wealth, is worshipped. Everyone dresses well and prepares luscious dishes, which include MorogerSurua (chicken Starter), Bhapa Pabda (steamed fish), and Aar MachherJhal (long-whiskered Catfish curry). This year, this festival is likely to be marked on 15th of April.
4. Pana Sankranthi
April 14, this festival is being celebrated as 'Pana Sankranti' or 'MahaVishubaSankranti' in Odisha. On this day, a special drink known as Pana is prepared, with various types of fruits, water, milk, curd, and sugar. To seek blessings, devotees visit Shiva, Vishu, or Hanuman temples on this day. Communities participate in fairs and watch folk and street dances. Families gather to catch and perform DandaNata (firewalk), one of the most ancient forms of performance art.
5. Puthandu
The Tamil New Year is known as 'Puthuvarusham' or 'Puthandu'. It marks the first day of Tamil Calendar, which is on 14th April this year. The day begins with an auspicious tray graced with three fruits (jackfruit, mango, and banana), jewelry, coins, flowers, betel leaves, and a mirror. This tradition is known as Kanni. Houses are decorated with Kolams that is made of rice powder. On this day, people wear new clothes and seek blessings from elders. They visit temples and offer prayers. Finally, the day is decorated by the veil of inviting lunch menu with sambar, poriyal or kootu, two pachadi varieties, vada, payasam, and curd.
6. Vishu
Vishu festival, which falls on the first day of Malayalam Month Medam, is celebrated as the beginning of the New Year. This eve is being celebrated on 15th of April this year. On VisuPulari (the morning of Vishu) people open their eyes to see Vishukkani. A Vishukkani contains an idol of Lord Vishu or Lord Krishna, bell-shaped metal oil lamps, flowers, betel leaves, betel nut, fruits, grains, fresh lemon, cucumber, vegetables, coconut, kajal, and a metal mirror, along with currency notes or coins kept inside the bell-shaped metal pan called "Uruli'. On this day, a traditional feast is served known as 'Sadya'. Firecrackers, embracing the celebration, are lighted in the evening.
Mangakari made by adding fiery kanthari to finely sliced Mangifera indica that has been steeped in rock salt.
Food alchemy#Vishu in Kerala pic.twitter.com/bt1eQjA11g

— Rukmini Pillai (@RukminiPillai) April 14, 2017
Though the names and traditions may vary, the maxim behind celebrating a festival remains unblemished. These values and traditions not only unite families and exhibit rich cultures, but also are a great source of business. The latter can be explained by the amount of expenditure done during these festivals on clothing, accessories, and of course food.
Considering the recent trends, the e-commerce industry does offer special discounts during festive seasons. This has added or can be said that it has become a part of life to avail the offers to buy gifts for the family and acquaintances.
We at Mordor Intelligence, as a family, celebrate all festivals with a great joy and enthusiasm. Our family is diverse with an enriched flavor of various cultures. We believe that with such a diversity, the work culture improves. The company works, celebrates, and stands together to reach great horizons.
With the fragrance of excitement and a pleasant breeze, Indians cherish their every moment and festival. Be it 'Sadya' or 'Kanni', people in this country are diverse but united.
How do you celebrate this festival at your place? Please let us know by commenting below.